Hackers Are Stealing Customer Data of Hotels and Restaurants With This New Trick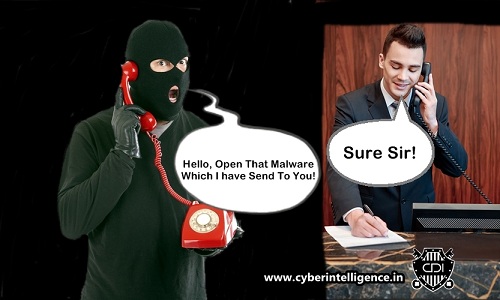 Hackers are using a new trick to steal customer data of Hotels and Restaurants. Hackers are calling to customer service representatives of hospitality service providers and they are pretending to be their customers. On calls, hackers are saying to representatives that they are facing difficulties in the online reservation system. When representatives are asking them to describe the issues which they are facing, hackers are sending an email to them. Further, they are manipulating representatives to open an attachment which is a malware in actual. The main motive of hackers behind this fake calling is to steal the credit card details of customers by installing malware in their e-commerce payment processes and point-of-sale systems.
About the Hackers
Trustwave Holdings is a security firm which is providing information security related services to big businesses including hospitality in more than 96 countries. According to security firm Trustwave, the famous "Carbanak Hacking Group" is doing this scam. Last year, more than $1 billion had been stolen by this hacking gang from various banks. According to a statement of Brian Hussey (Trustwave's Global Director of Incident Response), security researchers of Trustwave have found same malicious codes in the point-of-sale systems of its three clients which are affected by this scam. These malicious codes are looking like those malicious codes, which had been used by "Carbanak Hacking Group" last year, to steal money from the banks.
Brian Hussey also that hackers are running this campaign to target hospitality industry for now. They can also target other industries such as retail stores in future as well. Hackers have excellent communication skills and they are keeping the representative busy by talking about their fake inquiries. Hackers are keeping themselves on phone line until representatives are not downloading that malicious document.
"Hackers are also doing some name dropping during the call. It means they are checking social websites such as LinkedIn to find out the information about department heads of targeted hotels. Hackers are doing this to establish credibility."
How this Malicious Document Works?
Hackers are sending a word document to customer representatives, in which they are writing about their reservation requirements. This word document is a hard coded malware. When a representative is clicked on that document, in actual he is allowing the system to install a malware. Once this malware got an entry in payment processing systems, hackers can remotely install many other malicious codes in affected systems.
It is a Dangerous Malware Because?
This malware is allowing hackers to steal credit card information of the customer, personal information of the customer and other sensitive information of registered employees. Hackers can trace all the activities of targeted payment system. Moreover, hackers can control the whole network by exploiting unpatched network vulnerabilities. This malware is capable of taking screenshots of all the important processes of payment systems. By analyzing that processes, hackers could install more advanced malicious scripts remotely. This malware can trace every single transaction of payment processing systems. If a large hotel chain is getting affected by this malware, millions of customers will suffer it.
"A ridiculous fact about this malware is, it is undetectable by the antivirus tools also."
How to Avoid These Type of Cyber Threats?
The only way to avoid these type of threats is awaring customer service representatives and other staff about latest security threats which are targeting organizations to steal customer database. Hospitality organizations can organize a small security awareness seminar for its staff. It helps the customer representatives to understand these type of security risks.
If we talk about this scam, customer representatives should not open such type of documents without the confirmation of security team. If someone is facing difficulties in the online reservation system, staff should confirm it from technical department of the hotel.
Hot Hacking News: