Indian Embassies Hacked By Two Grey Hat Hackers!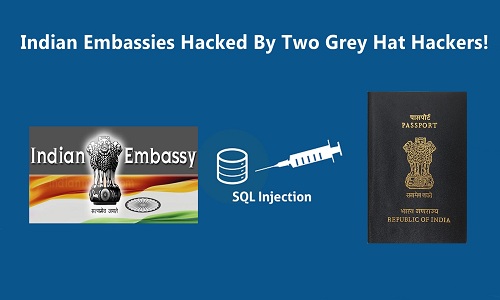 A security expert who breaks laws sometimes to get into any system but doesn't harm the system by doing any malicious activity is called "Grey Hat Hacker". The databases of Indian Embassies, which are located in Mali, Italy, Malawi, Switzerland, Romania and Libya have been breached by two grey hat hackers. The databases of these embassies were vulnerable to SQLi Attack and hackers easily managed to exploit all of it. The leaked data belongs to all that people, which are working in Indian Embassies of these countries.
About These Grey Hat Hackers
According to a blog post of Bit4ld's Chief Information Security Officer Pierluigi Paganini, he was contacted by a "Kapustkiy" named security pentester. He told him that he has breached the databases of Indian Embassies which are located in Switzerland, Romania, Italy, Mali, Libya and Malawi. One of his friends was also with him in the hack. His name is "Kapustkiy". These are monikers of both the grey hat hackers, "Kapustkiy" didn't reveal their real names. Both the hackers were "White Hat Hackers" in past but to seek the attention of media they change into "Grey Hat Hackers". A number of web admins have been forced by them to consider the security of website in a serious way.
Register For 7 Days SQL Injection Training Program of CDI: Click here
It Was SQLi Attack
The websites of Indian Embassies located in above mentioned countries were vulnerable to SQL Injection Attack. It was very easy for both hackers to exploit these vulnerabilities and the managed to gain the access to databases. According to hackers, many websites of Indian Embassies contains same SQL injection vulnerabilities. Total seven databases have been breached by both the hackers. After that, they post in on Pastebin. The leaked data contains Names, surnames, Passport Numbers, telephone numbers and email addresses of personnel.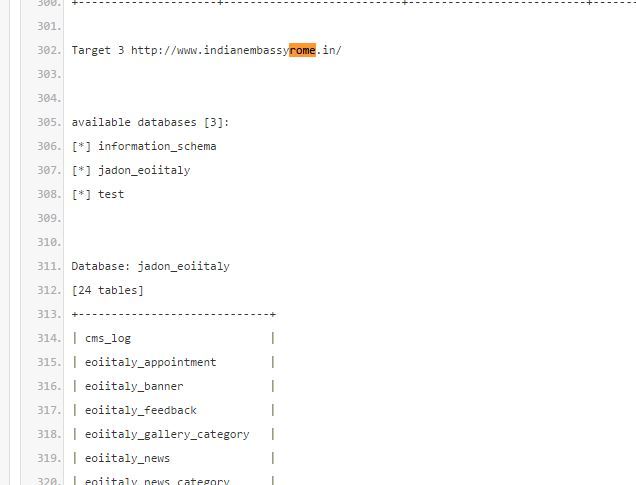 Operation Ke3chang
This data belongs to the personnel which is working in Indian Embassies of targeted countries. These type of cyber-attacks are very dangerous because anyone can misuse this information to target privileged personnel of Embassies. According to a report from PaloAlto Networks, in May 2013 Security Firm FireEye discovered a Ke3chang named operation in which hackers were targeting foreign ministry affairs of Europe. The hackers of these operations were from China. The same hacking group was targeting Indian Embassies as well in the same year. According to security firms, it is the only operation, in which hackers are targeting diplomatic personnel. Therefore, all the embassies of the world should spend money and time on security systems of its official websites.
"After this data breach, the official websites of these embassies were down for some time. But now all these websites are working fine."
Source: securityaffairs.co
Also Read: