Beware Axis Bank and SBI Bank Users! ATM Details Hacked!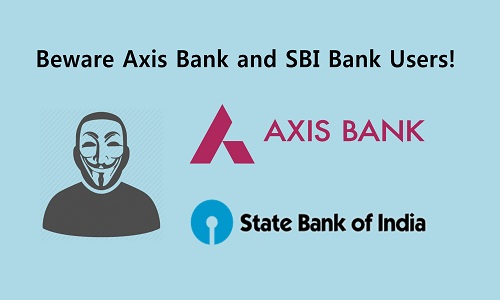 Axis Bank is one of the largest private sectors banks in INDIA. About a month ago, Security Researchers of famous Cyber Security Firm "Kaspersky" informed Axis bank that its servers have been breached by an anonymous hacker. On a telephone call, the researcher also revealed the information of all affected servers.
Axis Bank Found It Right
As Kaspersky informed Axis Bank about the security breach, Axis Bank security team started its investigation. During the investigation, they found an unauthorized login from a foreign IP address. Hacker didn't leave any type of information on the servers. A report has been filed by Axis bank to Reserve Bank of INDIA (RBI) about this security breach.
Ernst & Young (EY) is Investigating This Security Breach
London-based firm Ernst & Young is investigating security breach of Axis Bank servers. At the moment, not a single fund transfer report has been detected by the investigation team. The security team of EY is trying to find possible data loss. The security team of EY said," We are trying to figure out possible data loss. We also trying to collect information about the malware, due to which all this happened." If the malware is still present in Axis bank servers, the hacker could do something really big.
Which Type of Cyber Attack it was?
A malware has been used by the hacker to get the access of servers. These type of cyber attacks are mostly known as Advanced Persistent Threats.
APT- An advanced persistent threat is a cyber attack in which, a hacker can stay in network for a long time without any detection.
Hackers often perform these type of attacks to steal information only. They don't use this technique to damage servers. Chinese hackers and East European hackers are experts in such type of cyber attacks.
Axis Bank servers are handling information of various operations such as Credit Card, Debit card, Customer's Personal Details, Email IDs, Security Questions, Contact Numbers, Transaction details, ATM details and overseas financial services. Reserve Bank of India (RBI) has advised Axis Bank Chairmen to investigate this incident in a serious way. RBI also advised Axis Bank to review all its funds which are present in overseas nostro accounts.
6 Lac Debit Card Blocked By State Bank of INDIA (SBI)
On the other hand, 6 lakh debit cards have been blocked by SBI. State Bank of India is the largest bank of INDIA. Some suspicious transactions at third party ATMs have been noticed by State Bank of India. As the result, SBI blocked suspicious debit card without informing cardholders. To inform the cardholders about this incident, SBI is sending personal emails and SMSs to card holders. SBI is asking its customers to re-apply for new Debit Cards.
Why SBI Did It?
According to Shiv Kumar Bhasin (SBI Chief Technology Officer), "We have blocked 0.25% Debit Cards. We noticed that cardholders were using their cards on Malware Infected ATMs." Criminals behind those Malware infected ATMs were collecting debit card details to make unauthorized transactions. Many users of SBI have reported SBI about unknown transactions.
How is it possible?
During the investigation of an ATM machine located at Mumbai, police and Forensic Experts have found an ATM skimmer device in the smoke detectors. Forensic experts also got a chip from the card reader. This chip was stealing details of Debit Cards. According to reports, some foreigners are behind this incident. One of them has been arrested by police after seeing the footage of ATM cameras.
Affected Users?
The Debit Cards of affected cardholders have already been blocked by SBI. Those SBI customers are safe, who use their cards only at SBI ATMs. Till the end of July, the number of total SBI debit card users is around 20.30 crore. This is a huge figure and 0.25% of this figure has been blocked by SBI. Following subsidiary banks of SBI also contain affected users:
State Bank of Hyderabad
State Bank of Mysore
State Bank of Travancore
State Bank of Patiala
State Bank of Bikaner and Jaipur
Customers of Other Banks Are Also a Victim
Not only Axis Bank and SBI Bank customers are suffering this issue. A number of unknown transactions have been made by hackers from the accounts of many other banks as well. A Federal Bank customer, CV Ananda Bose claims that he has lost his 3 lakhs from his account in this scam,
Take of RBI (Reserve Bank of India)
RBI has strictly ordered all the banks to upgrade all it cards into chip based card which is using EMV (Europay, Mastercard, Visa) technology. Chip based EMV cards are more secure as compared to normal payment cards.
Some Security Tips For Account Holders
If Axis Bank Customers are noticing any suspicious activity related to their bank accounts, immediately contact your nearest branch.
Don't share your ATM PIN and Card Details with anyone.
Use advanced security methods such as OTP. All banks are providing these type of security techniques in free.
Similar Articles: