Be Alert, Scammers Are Sending "Fake Lottery Emails" On The Behalf of Reserve Bank of INDIA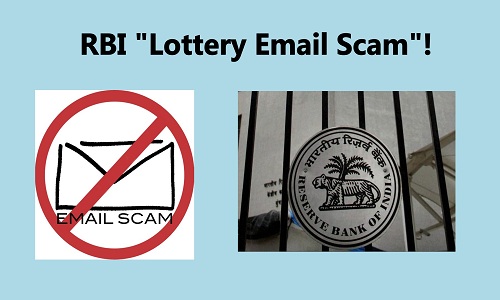 This afternoon, I just logged into my Gmail account and I saw that my inbox contains an email which was about unreleased lottery fund. The email contains a word document and a JPG Image file, which claims to be a "RBI Note". When I read the whole email, the fact I found that it is a scam email which has been sent by scammers to collect my bank details and personal information. The email claimed that I will get "4 Crores, 36 Lakhs Rupees" from Reserve Bank of INDIA because it is my unpaid lottery amount. The sender's email address was officenote46@yahoo.com.

Description of Email
Scammers are using "_rbi claim" as the subject of the email. The document contains the photo of, The Reserve Bank of India (RBI) Governor, Dr. Urjit R. Patel in the starting. The scammers are using "RESERVE BANK OF INDIA OFFICIAL COMPENSATION PAYMENT NOTIFICATION" as heading of the email. The scammers are asking for victims that they have sent to send a copy of PAN/ Voter card and a Passport size photograph atrbionline21@outlook.com to clear the documentation of lottery fund releasing process.
Have A look At The Email Body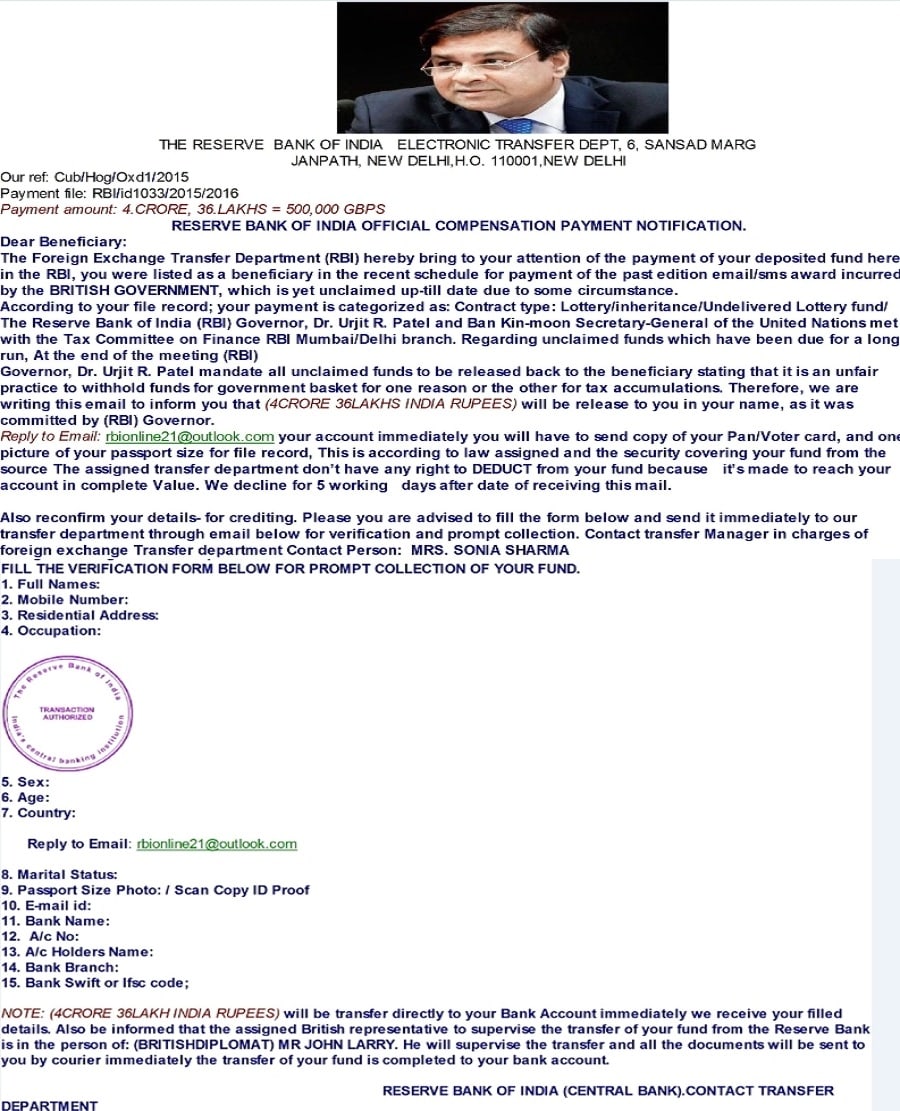 Scammers Are Stealing Bank Account Details
Moreover, the scammers are sending a form and manipulating victims to fill it by saying that it is a must to verify customer identity. They are saying that after filling this form send it to "rbionline21@outlook.com". According to scammers, this email belongs to contact transfer Manager in charges of foreign exchange Transfer department Contact Person: MRS. SONIA SHARMA. In the documents, they have highlighted this email twice. The form contains following columns:
Full Names
Mobile Number
Residential Address
Occupation
Sex
Age
Country
Marital Status
Passport Size Photo: / Scan Copy ID Proof
E-mail id
Bank Name
A/c No
A/c Holders Name
Bank Branch
Bank Swift or Ifsc code
A fake RBI stamp has been used by the scammers in the form. A note has also been written by the scammers at the bottom of the email. In this note, they are giving a clarification that when they will receive the requested documents, the amount of "4 Crores, 36 Lakhs Rupees" will be credited to the bank account automatically. According to scammers, MR. JOHN LARRY ( A British DIPLOMAT) is the supervisor of this transaction and RBI has assigned him this task. They are saying, MR JOHN LARRY will personally send all the documents back through courier after the verification.
Conclusion
If you got such type of emails, don't take them seriously. It is just a trap and scammers are collection all the personal and bank details. Further, they can use this information to bypass online financial accounts. RBI will never use officenote46@yahoo.com types of email addresses to send the email. Neither RBI will ask anyone to send his personal and bank information because all the banks already have the details of their customers. Be smart and avoid such type of emails.
Also Read: