Beware Aussies, Scammers Are Sending You AGL Phishing Emails!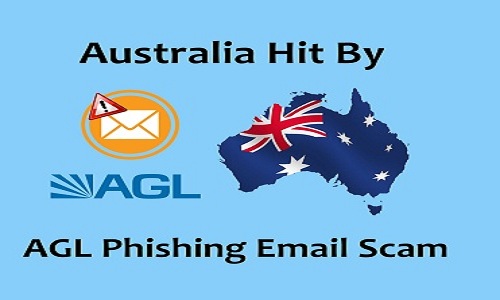 Scammers are targeting Australia nowadays. Last month, cyber crooks were dropping malicious USB devices in mailboxes of local residents. Those USB devices were loaded with malware and ransomware. Recently, South Australia had been hit by storm and flood. It results in a huge damage. A new phishing email scam has been detected by Email Security firm "MailGuard". Scammers are sending phishing emails to residents of affected part of Australia. They are impersonating AGL Energy Company to manipulate victims by asking them that they could get additional financial help for the damage.
What Are They Doing?
According to a LinkedIn post of MailGuard's Founder Craig McDonald, scammers are sending a fake invoice to victims, which looks like an official email of AGL Energy. Scammers are especially targeting the people from flood and storm affected areas of Australia. When a victim clicks on the malicious email, it redirects him/her to a third party website. That third party website has been designed by Scammers especially, to install malware in their systems. This malware is capable of stealing sensitive information such as User ID and Password of victim's computer system. Scammers can steal all the data of victim remotely. Further, they could encrypt victim's data to get money from him.
How the Phishing Email Look Like?
Scammers are using "My Monthly Bill" as the subject of the email. Moreover, the title of Email is "AGL Paperless Invoice".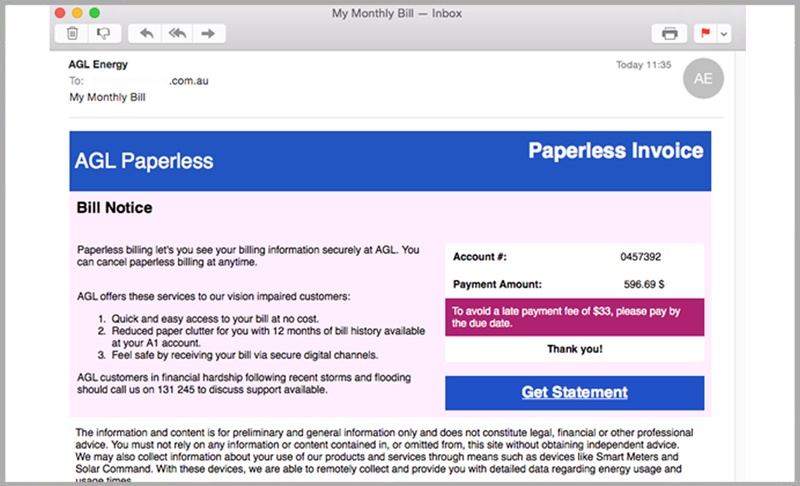 How Scammers are Spreading This Malware?
Scammers are using a fake website, which looks like the official website of AGL Energy. When the victim visits this site, he have has to fill some information. In actual, this information is just a hoax to manipulate the victims for installing the malware. Scammers are also using a fake "Captcha" to show that they care about the information of users. It is nothing more than a trick.
Take of AGL Energy on This
According to AGL Energy, they are not sending any type of financial email to their customers. The company has advised its customer to use an email security tool and to block the senders of these phishing emails. The company has reported this scam to Australian Competition Consumer Commission, and the Australian Federal Police. Cyber Police of Australia is investigating this scam and security experts are trying to find the actors behind this scam. The same email scam had happened in May 2016.
Security Tips For Users
Do not open that emails, which you are getting from unknown sources.
AGL Energy is not sending any type of email, which belongs to its financial department.
Do not provide too much information on social media profiles, because scammers are targeting those people, which belongs to flood and storm affected areas of Australia. It is very easy to find the location of a person on social media.
Similar Articles: