'The Jester' Hacker Hacked Russian Govt. Website in the Retaliation of Dyn DNS DDoS Attack!

A few Days ago, US clearly said that Russia is responsible for all that cyber-attacks and data breaches which are related to US election campaigns and personnel involved in this campaigning. The US clearly said that Russia is motivating its cyber army to deface US official websites and for data breaches. On the other hand, Russia is refusing all the allegations. US defense in investigating cyber-attacks to catch the hackers. National level cyber actors are doing their duties very well. Moreover, there are a number of patriotic hackers which are performing cyber-attacks against the opponents. A number of US netizens were unable to use the Internet due to the recent Distributed Denial of Service (DDoS) Attack against Dyn DNS.
"In the retaliation for the cyber-attacks against United States Dyn DNS DoS Attack, American Hacker The Jester hacked official website of Russian Ministry of Foreign Affairs. He wrote a message for Russian President Vladimir Putin on the website.''
The Jester Wrote "Stop Attacking Americans".
Who is The Jester?
The Jester (th3j35t3r) is an American Hacker, who is responsible for various hacks related to WikiLeaks, Islamic Websites, Iranian President and 4Chan. He developed a XerXes named tool to perform DoS (Denial of Service) attacks. He appeared on twitter in the first week of January 2010. The Jester is a former soldier and he had served the United States by participating in four "Operational Tours". He had confirmed this fact during his live chat interview which held in April 2012.
How he defaced the website?
According to security experts, this hack was not that much complex. The Jester discovered a vulnerability in the website and exploited it by writing some special codes. By doing this, he managed to get the access of Russian Government portal. This hack happened due to an old vulnerability which had not been fixed by the Russia. After defacing the website, he wrote a message for the Russian President. You can read that message in following image: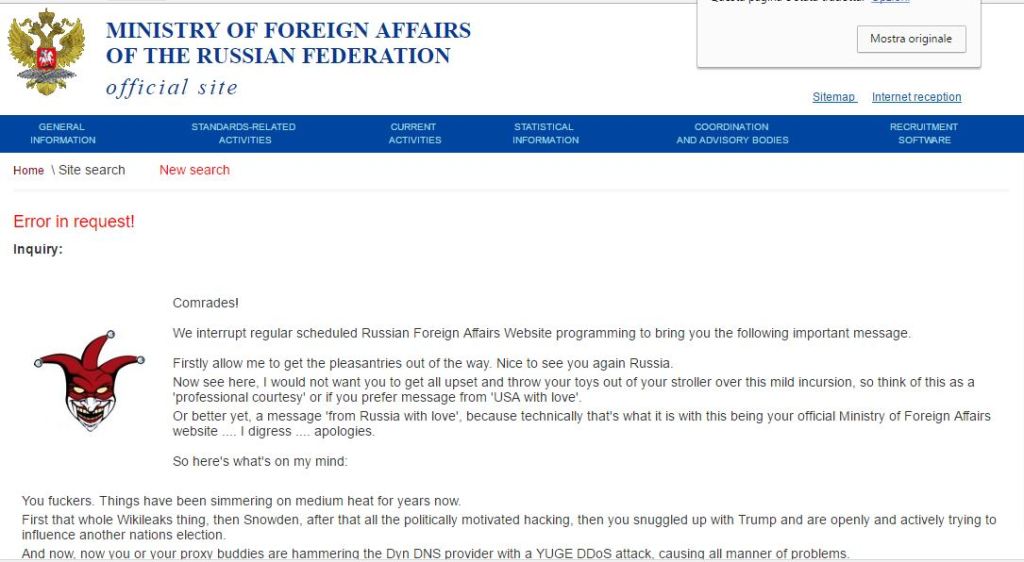 The Jester had claimed a number of cyber attacks, which he had done against Islamic Jihadist. This time he chooses, Russian foreign Ministry Website. He also told about this hack to journalists of CNNMoney. During his interview with CNNMoney he said, ''I can't see all of that which Russia is doing with the United States. The weekend has started and It is around 4 am in Moscow right now. I don't think they will fix it right now."
What Russia Said About it?
On the other hand, Russia has said that The Jester has defaced an old version of the website. Maria Zakharova, a spokeswoman for Russian Foreign Ministry posted on Facebook that the hacked website has not been used by officials for a long time. She also wrote that experts are investigating this issue. According to Maria, the actual official website of Russia was working normally after The Jester posted about the hack.
Similar Articles: