Coachella Festival Data Breached, 1 Million Personal Details Stolen By Hackers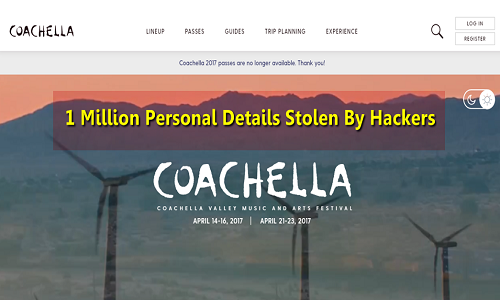 The Coachella Valley Music and Arts festival was founded by "Rick Van Santen" and "Paul Tollet" in 1999. It is an annual festival which held in Indio, California at the Empire Polo Club. Thousands of people come to enjoy this festival from the every corner of the world. A shocking revelation has been made by the promoters of "Coachella Festival" that the database of "Coachella Festival's" official website www.coachella.com has been breached. The personal details of approximately 1 million attendees have been stolen by the hackers.
What About the Financial Details?
According to the Goldenvoice (Organizers and Promoters of Coachella Festival), all the credit and debit card details of attendees are safe because the breached database does not contain any type of payment detail. The management is storing payment details in a highly secured database and it is not connected with any other database. The stolen information contains First Names, Last Names, Usernames, Hashed Passwords, Email Id's, Date of Birth, Residential Addresses and contact numbers.
The famous blog "Motherboard" also published a post in the last week of February that someone was selling personal details of around 1 million Coachella Festival attendees on Dark Web for $300 only. That time, the Coachella didn't confirm any data breach. After an investigation, the Coachella management now revealed that the news of data breach is legit.
Hackers Could Organize Phishing Scams
The personal information of 1 million Coachella Festival attendees is in the hands of hackers. The hackers could misuse this information to organize the various type of phishing scams and fraudulent illegal activities. The hackers could also attempt illegal activities by stealing the identity of these attendees because they already have full names, residential addresses and contact numbers. The security firms have already noted various phishing scams of "Coachella Festival Ticket Refund". A normal person, who is not much aware of the internet scams could easily fall for it. The scammers could steal money from the victims by misguiding them or tricking them into various illegitimate activities.
The only good news is, the payment card details are safe. But, the hackers have personal details of the victims and they are expert in social engineering attacks. The security researchers of "Malwarebytes" are still investigating this data breach. Chris Boyd (Security Researcher at Malwarebytes) said that it is also possible to cancel and replace the payment card through some tokens but it is a little bit tricky.

Also Read: