Dark Web – 6,40,000 PlayStation User Accounts On Sale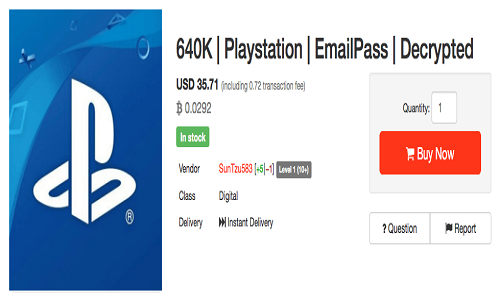 The Dark Web is the best marketplace for bad actors to sell illegal products like drugs, weapons, and stolen ID cards. The hackers are also using this black internet market to sell stolen user accounts. A seller is selling 6,40,000 PlayStation user accounts for 0.0292 BTC (35.71 USD) on the dark web. This seller is using "SunTzu583" as its dark web moniker. According to a blog post of HackRead, the same seller was selling 1 Million Yahoo and Gmail accounts on the dark web a few days ago. These 6,40,000 accounts contain email id and clear text password of users.
Source of The Stolen Accounts
The actual source of this PlayStation dump is still not clear. The "SunTzu583" seller revealed that he didn't steal these accounts from the servers of PlayStation but this big dump contains unique and real user accounts of PlayStaion. The seller also added that you may try the same accounts on other platforms as well but first of all these accounts belongs to PlayStation. This dump could be the result of all major data breaches (LinkedIn, MySpace, Dropbox, Verizon Enterprises, and various health industries) which happened last year, including Yahoo breach 2012.
The 1 Million Gmail and Yahoo accounts, which "SunTzu583" was selling on the dark web a few days ago could be the result of same data breaches. The people are not much aware of some very common mistakes. The "Repeat Password" habit is one of them and it is a very bad habit for the people who spend most of their time on the internet. The hackers know that a common person will always set same username and password for all the online accounts to remember it easily. So, if a hacker successfully got the user account credentials of any website, he will try it on all the famous and major platforms.
Response of The PlayStation Owner
The gaming platform PlayStation has been owned by the very well-known Japan-based company "Sony Interactive Entertainment". According to a report of the company, last month they got a number of PlayStation account hack reports. The victims were also reporting about their stolen funds. The company started an investigation and the security team didn't found any malicious activity on the server. The servers of the company are safe. It is possible that the hackers have breached a third party database and they have tried the same username and password for PlayStation. The ones who are using same usernames and passwords for all online accounts including PlayStation could be the victims.
Some Security Tips
Change your PlayStation passwords ASAP.
Also, change the passwords of all those accounts for which you are using the same password.
Always use a unique and complex password including numbers and special characters.
Read our blogs to know about all type of cyber security threats and their countermeasures.
Also Read