Repeat Offenders- Google's New Weapon to Fight Against Malicious Websites!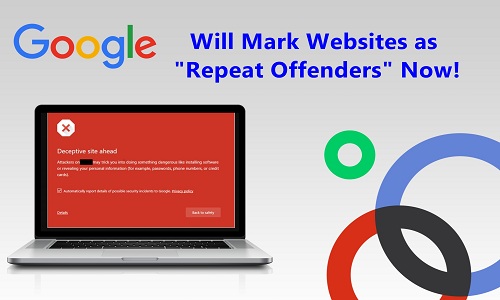 A new step has been taken by search engine giant "Google" to fight back against malicious websites, which are spreading malicious application. To prove the website legit, the scammers are showing legit content and software on its webpages. But after increasing website traffic through different marketing strategies, they upload malicious software on the website. After a particular time period, scammers again remove those malicious applications. It is a repeated process which has been used by scammers to target victims. From now, Google will label all these websites with "repeat offender" flag.
What is Google's Repeat Offender Flag?
If a website is pretending to be a legitimate website but in actual, it is spreading malicious applications, Google will mark it as "Repeat Offender". Once Google will mark it, there will a big red warning on the screen of the user. When user will visit "repeat offender" marked website, he/she will see this warning. Website owner can't appeal to remove that warning for 30 days. The warning will remain as same on the screen, till Google declare it a safe website again. In this warning, Google will inform users that the website which they have to visit could install malicious software on your systems. Moreover, it can steal your personal information such as Full Name, SSN (Social Security Number), Phone Numbers, Email Addresses and Residential Address.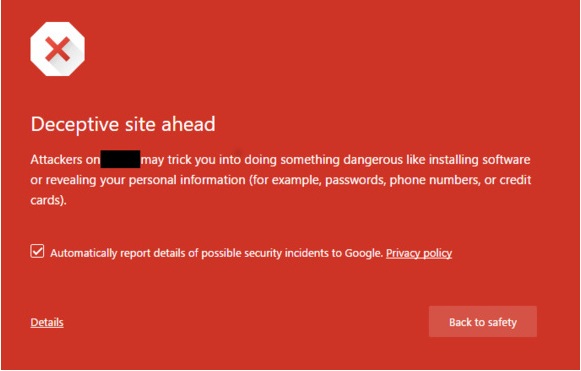 Why is Google Taking This Step?
Scammers are everywhere. To earn more money and to steal personal information, scammers are forcefully installing malicious software and plugins in victim's computer system. Initially, scammers are giving this software in free and after that, they are manually generating problems in targeted systems by installing malicious codes remotely.
But how scammers are reaching to the users? Well, scammers are using various websites to spread these type of malicious applications in free. When a user search for a legit software such as MS Office and VLC Media Player, the websites of scammers appears on the top in search results. They offer the same applications in free. Normal user thinks, if I am getting something in free then why to spend for that? But they don't know, they are installing malware in their systems.
All the Ransomware Attacks are happening due to these type of activities of scammers. Normal computer users are not aware of cyber threats. Scammers are taking advantage of this fact. IT companies and security agencies are taking strict action against Tech Support business as well. No doubt, many Tech Support companies are working in a legit way also but most probably scammers are doing pop-up scams by hiding themselves behind Tech Support industry.
Benefits of Repeat Offenders?
It will inform the users that the website which you are visiting is not trustable.
It is a good step for Google towards "Safe Browsing Arsenal".
It will be difficult for scammers to manipulate normal users.
Google will label malicious website as a "Repeat Offender" for 30 days. No appeal options for scammers.
It will reduce ransomware attacks.
Overall it a good step for Google to protect the users from scammers.
Security Tips For Users
Say no to freeware. Use pro version of all the software and applications. If you have to use free software then download the trail version of that software from its official website.
Never upload your personal information on that websites, which looks illegitimate.
Always check the domain address of a website, before downloading and submitting anything.
Use pro version of AV tools, which are protecting browsers from dodgy websites.
Latest Hacking News: