7 Iranian Hackers will spend their future in Prison, United States said!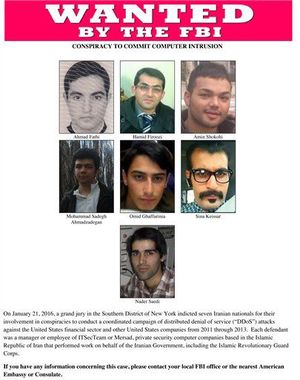 On Thursday, a Department of Justice indictment of US said seven IRANIAN hackers are responsible for near about 190 DDoS (Denial of Service) attacks, which happened between years 2011-2013. These hackers had targeted a number of US Banks and Dams. According to US Government, these hackers were working for Revolutionary Guard Corps of IRAN.
Why US is accusing these IRANIAN hackers?
These hackers were the IT professionals at two IRANIAN companies, Mersad and ITSecTeam. IRANIAN Government was paying to these hackers for conducting attacks on United States. All the seven hackers were professional hackers as they had targeted top banks of United States. Bowman Avenue Dam is a small dam in New York City. This dam was also hacked by one of these seven hackers. The control flow of water at that dam was in the hands of hackers.
Attorney General Loretta Lynch said at a news conference," US Government will not allow any country, group and individual to destroy his financial systems. All countries could compete with US in free market with a fair competition." Department of Justice said, these IRANIAN hackers had directed up to 140 GB data per second during DDoS attacks on banks of United States. Most of the attacks happened in September 2012 but after that US was facing a new DDoS attack every week. As these hackers were crashing servers of banks of US, but they were failed to steal personal information of bank customers.
How attackers were performing attacks?
As usual, hackers were performing these DDoS attacks with the help of a large network. All the computer systems of this network were first infected with Malware. Hackers were spreading malware through third party websites. Federal Bureau of Investigation (FBI) was doing work with internet service providers to investigate these attacks. At the end FBI said, hackers were using large bandwidth to upload more than 100 GB data per second on the bank servers of US. Now more than 90 percent computers are free from that network, which is called the botnet.
According to a report of DOJ (Department of Justice), the hackers are the members of two more Iranian hacking teams Ashiyane Digital Security Team and Sun Army. Sadegh Ahmadzadegan and Omid Ghaffarinia are leaders of these seven hackers. They are famous on Internet with the short names used by them "Nitr0jen 26" and "PLuS' respectively. These are the guys who hacked into NASA also in 2012. DDoS attacks on banks were a normal thing and these were defend by Security teams but the attack on Bowman Dam was a thing of worry. According to an official, a person named Hamid Firoozi was obtaining unauthorized access into the systems of Bowman Dam between August, 2013 and September 2013.
US government have charged all the seven hackers for computer hacking offenses. All the seven hackers will face 10 years prison. The one hacker, who is responsible for Dam hack, will spend 15 years in prison.