The US Based Sports News Website "Bleacher Report" – Data Breached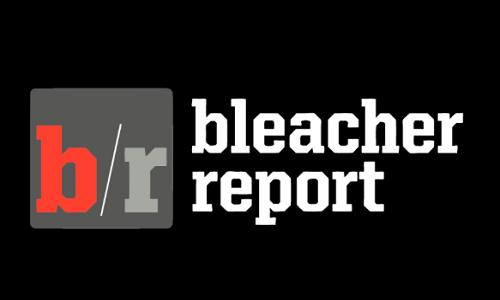 The famous sports news website of United States Bleacher Report hit by a data breach. This San Francisco-based website has been owned by famous multinational media and entertainment company Time Warner. The Bleacher Report provides information about trending sports topics. The bleacher report is providing its services through the mobile application and its web portal. The security team of Bleacher Report noticed that some of its internal servers have been accessed by an unauthorized third party. Therefore, the username and password details of all Bleacher Report users are at risk.
What Action The Company Took?
The Bleacher Report is informing all its users about this data breach by sending an email. In that email, the company wrote that your login credentials for Bleacher Report account could be compromised because we recently hit by a data breach. The incident happened due to the involvement of an unauthorized third party into our internal network. The company also wrote that they take the security of their customers very seriously, therefore, we request you to change your password as soon as possible. The company is providing a link as well to reset the password. The company wrote that the given link will work only for 72 hours. If you will not reset the password then you have to click on the "Forget Password" option because the existing password will be ceased to work.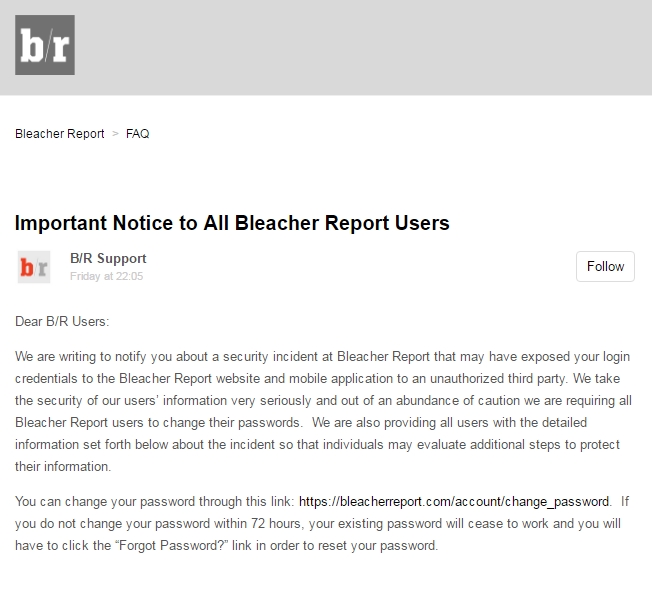 The Leaked Information
According to the company, any type of financial information was not available on the breached databases because they not collect sensitive information of users such as Credit Card numbers, Debit Card numbers, Social Security Numbers and other personal data. The leaked information contains Usernames and passwords of users. The leaked information belongs to both mobile application users and web portals users.
Actually, on 12 November 2016, the security team of Bleacher Report noticed that some of the server files have been accessed by an unauthorized third party. They started an immediate investigation and the came to know about a fact that they are too late. Because the data had been accessed by the hackers in early November 2016. Later, the company informed the law enforcement authorities about this data breach.
Security Tips for Users
The company apologized for this data breach and advised its users to reset their passwords immediately. The company also advised that users are using same passwords for other online accounts they need to reset all of them as soon as possible. The hackers could try the stolen passwords on other online websites as well. The company has warned its users that they will never ask for their personal information such as emails id, contact number, and SSN number. Therefore, don't provide any type of information to scammers.
Similar Articles: