Biggest Irish Telecommunication Company Eir Hit By DDoS Attack
Eir (Eircom) is an Irish telecommunication company which provides mobile, the internet, digital TV and broadband services. The headquarter of Eir is located in Dublin and its annual revenue is around 1.3 Billion Euros. Recently, a major DDoS (Denial of Service) attack has been organized by the hackers against email systems of Eir. The company has more than 4,00,000 active email users. All these users were facing problems when they were trying to log in.
The Whole Incident
Last week, the server admins of Eir noticed that a flood of malicious IP packets is hitting the servers. Eir is one of the biggest telecommunication company in Ireland. All the users of Eir are using its mail service with "@eircom.net". The actual name of this company was Eircom but now they have changed it into "Eir". After noticing this DDoS attack, the network security team of Eir started its Mitigation process. Attackers often perform DDoS attack to taking down a web server temporarily. A successful DDoS attack can disconnect all the services of a company from its host. The users of the company may face major problems.
Is there Mirai Botnet Behind this DDoS Attack?
It is possible that hackers had used Mirai Botnet to perform this DDoS attack. A number of DDoS attacks had been performed by hackers with this Mirai Botnet in last three months. The shocking fact is, all the targets were high-profile business organizations and government organizations. It is happening since the author of Mirai Botnet has leaked its source code on the dark web. This botnet can easily compromise poorly configured IoT devices. Hackers are modifying this Mirai Botnet and offering it to other fellow hackers as a paid DDoS attack service.
After some time, the security experts successfully prevented Eir servers from this DDoS attack. A number of Eir email users were able to use their email service. But, a number of users are still facing problems when they are trying to log in for email service. Eir has published a notice on its website to explain the reason of problems, which users are facing during login.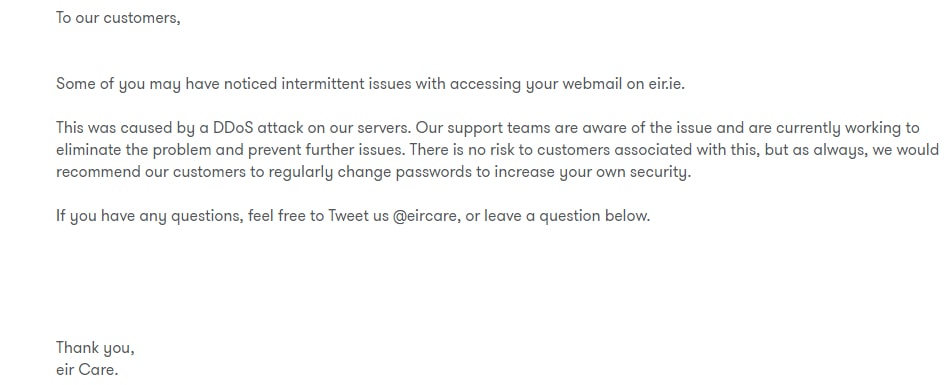 Any Ransom Demanded By Hackers?
Eir said that they have not been contacted by hackers regarding this DDoS attack. Neither, they have demanded any type of ransom for it. Mostly hackers perform DDoS attacks to taking down the services of a company and they demand money to stop it. After disabling all the services, they try to hack into internal servers of targeted firm. Network firewalls, Load balancers, and IP table security techniques can prevent servers from such type of attacks but hackers are so smart. The companies need to keep themselves two step ahead of hackers if they want to defeat them. The United Kingdom will open a National Cyber Security Centre in London to protect the country from cyber-attacks.
Similar Articles: