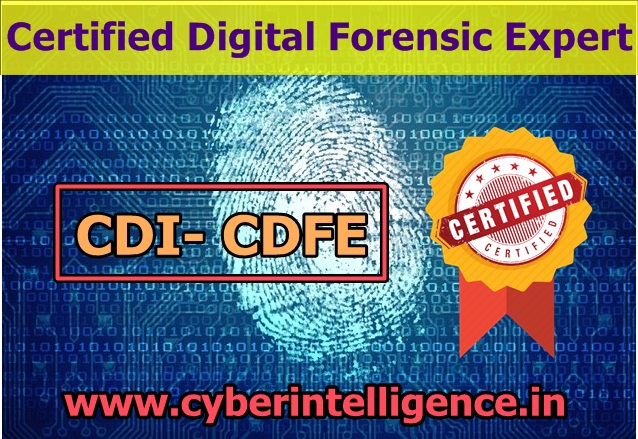 CDI- CDFE (CERTIFIED DIGITAL FORENSIC EXPERT)
Digital Forensic is a branch of Forensic Science. Digital Forensic means, finding evidence from digital media and information. It is an investigation process, in which forensic experts try to find clues related to a particular cybercrime. If we talk about industry, there is need of Digital Forensic experts to investigate the computer systems of employees for data recovery processes and to investigate that cyber activities, which are against the policies of a company. This is just a small example. Digital Forensic Process mainly have three stages: (i) Image Acquisition (ii) Analysis (iii) Reporting.
Acquisition is a process of making duplicate image of volatile memory in any hardware based system. If we have to investigate a computer system, we will make an image of its RAM (Random Access Memory). It is a must for further digital forensic process. Analyzing is the phase of investigation. With the help of tools and by using a number of methodologies, forensic experts collects the evidences. Recovering a data from burned and crashed Pen Drive is also a part of Analyzing. After collecting evidences and completing the investigation process, forensic experts presents the data in form of report.
CDI- CDFE (Certified Digital Forensic Expert) is a one month training program of CDI, in which security geeks and IT professionals will learn Digital Forensic. It is playing a great role in the domain of cyber security. To investigate every cyber-attack, there is need of security researchers and forensic experts.
No Batch Available In This Course Yet.