The Actual Story Behind Dyn DNS DDoS Attack!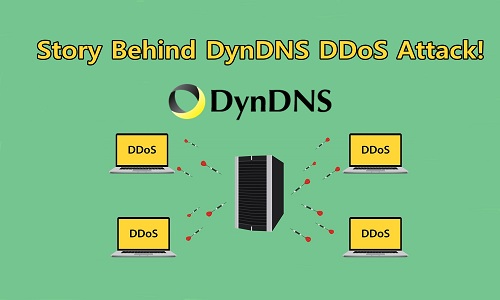 A major DDoS (Distibuted Denial of Service) Attack was launched by hackers against Dyn DNS (Internet Performance Management Company) last Friday. It caused problems for several major websites which are using infrastructure of Dyn including GitHub, Twitter, Amazon, PayPal, Reddit, Spotify and Netflix. Several theories have been claimed by researchers related to this DDoS Attack and each theory is defining a different story. Finally, security researchers at Flashpoint have claimed that actually the DDoS Attack had been launched by script kiddies.
How They Managed to Launch DDoS Attack?
All it has been done by the hackers with the help of Mirai Botnets. Few weeks ago, the original source code of this botnet had been leaked by its author. This source code was helpful for the script kiddies to compromise vulnerable IoT devices. Approximately, hundreds of thousands IoT (Internet of Things) devices were compromised by the attackers to launch that massive DDoS Attack.
Who is Responsible For This Dyn DNS DDoS Attack?
Recently, the official website of Russian Ministry of Foreign Affairs has been defaced by an American patriotic hacker "The Jester" in the retaliation of Dyn DNS DDoS Attack. According to him, Russia is responsible for this attack. After defacing website, he left a message for Russian President Vladimir Putin. Moreover, a hacktivist group New World Hackers was also taking responsibility of this DDoS Attack. According to security researchers of Flashpoint, Dyn DNS DDoS Attack was not performed by hacktivists and profit seeker hackers. Member of some particular hack forums are responsible for this DDoS Attack, the ones who are dependent on scripts.
Any Proof?
Yes Of course! During investigation. Security researchers came to know about a fact that the infrastructure used by attackers to perform DDoS Attack against Dyn DNS was also used by attackers to launch an attack against major video game companies. That was an unsuccessful cyber-attack. Hactivisits and State Sponsored hackers are not that much interested in launching attacks against video game companies. They only launch cyber-attack for a clear objective such as money earning, political objective or any other strategy.
"The DDoS Attack against Dyn DNS was just launched by actors, just to show their hacking skills or trolling companies to gain attention of world."
Mirai Botnet is Becoming Cancer for IoT Devices
It seems like, Mirai Botnet is becoming cancer for all the Internet of Thing Devices. It can easily compromise vulnerable IoT devices. The code of Mirai Botnet is available online and hackers are writing more advanced botnet script after analyzing its working process. Mirai Botnet can easily hack IP based CCTV cameras, Routers and DVRs. Chinese Company "Dahua Technology" has revealed that its devices had been compromised by Mirai Botnet to perform DDoS Attack against Dyn DNS. Another Chinese company XiongMai Technologies is also recalling some of its vulnerable products.
Similar Articles: